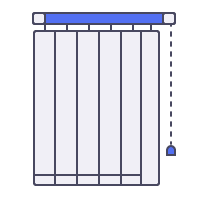 Step by step Installation
Installation of Vertical Blinds: Is very straight forward and requires little expertise or tools.
You will need: An appropriate screwdriver
Main Bracket Dimensions: 20mm wide x 50mm depth
Step 1
Organise the brackets. The back of the bracket is represented by the extended metal foot (left side of picture 1) which is used to release the blind once installed.
Step 2
Space the brackets at regular intervals ensuring they are at an equal distance from the front of the sill. The centre of the bracket must be a least 60mm from the back of the sill (otherwise the slats won't turn freely once hung).
Step 3
Screw the brackets in, slot the rail in securely and finally hook the slats to the runners in the rail.